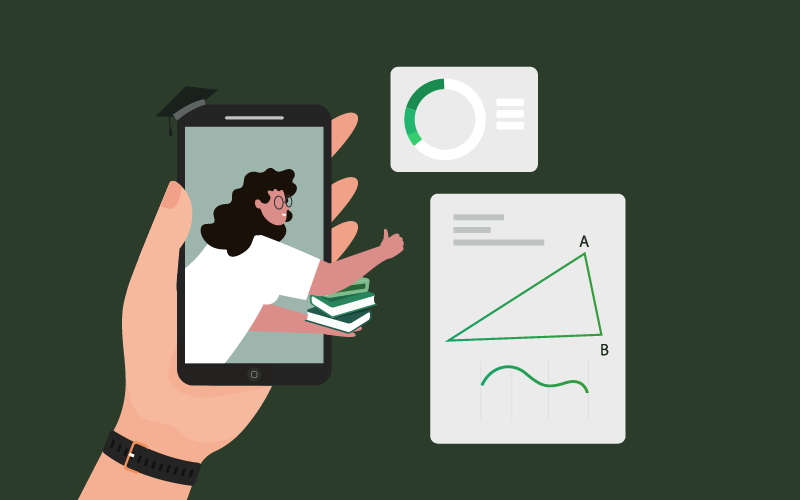 Nowadays, everyone uses apps and their smartphone in their daily life and work. Millions of apps are built to make life easier in every industry. Educational apps for teachers allow them to streamline day-to-day activities focusing on student education and communication with students that will increase their interest in learning and help strengthen a personal bond with them.
We've put together a short list of apps for educators to help you cope with daily tasks and better organize your time.

Most of us already have a Google account. Google Drive helps everyone, from business people and companies to teachers and students, store, transfer, and edit important files in many formats. Google Drive allows users to work with documents, spreadsheets, and other media files from any smart device.
Google Docs allows students to submit their work to shared folders, and the instructor can check, edit, and leave notes for themselves or students in the document.
Google Drive is already pre-installed on most android devices, so you can start using it without additional gestures.

Over the past year, classes have become centers of distance and virtual learning. Zoom has gained unprecedented popularity and has become one of the most useful apps for teachers and students, allowing teachers and students to teach and learn hundreds of kilometers apart. Thanks to cross-platform instant messaging, excellent video, sound, and real-time screen broadcasting, the application has become the most convenient tool for conducting online classes.
The app has an excellent set of features, namely a survey function that allows teachers to easily get feedback while communicating with the class. Raising your hand can an additional incentive during live class activities.

Haiku Deck Apps allow teachers to create good-looking presentations with ease. The well-optimized interface of the application allows you to bring order and lightness to your regular slideshow presentation, creating a more professional look.
The app provides you with a wide variety of images and ready-made templates to choose from so you can quickly compose your next lecture. Presentations are perfectly optimized for various platforms and work on a tablet, smartphone, or PC.
The Haiku Deck can also be used by students to create interesting presentations of educational projects.

Teachers like to turn a simple boring lesson into an interactive game to help motivate students, but not everyone has the skills to design games from scratch. Fortunately, the GetKahoot website makes it easy to turn a classroom activity into an interactive play experience.
You only need to add the pre-prepared questions and answers to the website to create an interesting game for the students. After that, your students must install the Kahoot app on their mobile devices to use it as a buzzer to join the game.
You can start with simple tasks on the home screen and view important statistics on your profile page.

You have most likely used or heard of Dropbox. The service itself and the companion application are excellent when it comes time to upload presentations and photos, documents, videos, and other files that you need, whether you are at home or in the classroom.
The application also allows you to create and edit different types of Microsoft Office files on a mobile device and shares links to files with students so as not to overload their mailboxes with a large number of different files.
You can control how students can access files through link preferences such as password, audience, expiration date, and turn off the ability to download.

Evernote is a popular and useful note-taking tool. It helps you create notes in the form of a complete web page or part of a page, voice memo, text, or picture. You can also attach files to notes.
Evernote helps teachers create notebooks, planners, and organizers. With this, it becomes possible to sync and receive notes anytime, anywhere.
Students can easily create separate notebooks for each individual regimentation. Parents have the ability to view student activities. All this functionality makes Evernote one of the most user-friendly apps for teachers and educators.

Additio transforms ordinary organizational moments into digital ones. This application can be used to take notes on student attendance and progress, and keep track of grades.
The application has a convenient lesson planning function that allows you to designate the semester and criteria for assessing progress. Additio also integrates with Google and Microsoft classroom features, making it easy to import grades.
Also Additio has a messaging feature that you can use to contact parents and students.

Working as a teacher or tutor, you definitely came across situations when it is difficult to organize the learning process and working hours. Organizing your working time is often a daunting task, especially when you need to meet dozens of students in different lessons in a day.
Teaching & Class Manager by BestWebSoft – is a handy lesson scheduling and management software for educational businesses.
Using the app you can create an unlimited number of your class lists, specify the duration and cost of each. The app can automatically calculate the time required for a specific class and suggest the appropriate time slots for each new appointment. Reminders in the form of notifications will help you not to miss important lessons.
The app also has a built-in calendar for viewing and managing future student lessons and meeting history.
With the "wallet" function, you can track the flow of your finances and keep statistics or your balance for a certain period of time.
Conclusion
You already know that you are an excellent educational professional who helps your students learn more and achieve their best results, so by looking into the world of apps for teachers and private tutors, you can broaden your horizons and delve deeper into the learning process itself, making it more interesting. , more modern and more interactive.
By using the above applications, you can use your time more efficiently. Since these apps will store all the materials, lectures, presentations, and calendars for you, you don't have to repeat the same action for each student. The ability to deliver individual and group lessons effortlessly makes using teacher apps the best option. Enjoy the results of the applications, save time and do a lovable thing!