The smartphone is becoming the most important tool for digital media success. At an astonishing rate, it fundamentally transforms company structures, operating models, and marketplaces. Revenue from mobile apps is anticipated to reach $693 billion by 2022.
Another frightening reality is that the majority of mobile apps fail. The failure is primarily due to an inability to keep up with and incorporate the latest mobile app technological advancements. As a result of this weakness, a competitor who is more technologically adaptive has an advantage.
The mobile application development business is advancing at a breakneck pace. You must become familiar with shifting mobile app development trends in order to live and thrive in this digital era.
In 2021, the situation with quarantine restrictions has somewhat weakened, but now we can already assume what areas will be relevant at the beginning of 2022 – what developers should pay attention to and what the future of mobile development will be.
New and Developing Features
Super-apps
One of the most recent trends that are gradually sweeping the world is the development of multi-purpose, multi-tasking applications for smartphones. Previously, applications were created each to solve a specific problem – only communication, only logistics, a certain type of service, etc. Even if we take a specific area, for example, medicine, then the programs were done separately for fitness, diets, lifestyle, proper nutrition, etc. Currently, software products of the "super" class are gaining popularity. Such a super application alone is capable of performing a whole range of versatile tasks at once.
The popularity of multi-purpose applications is due to the desire to create an environment that covers all the needs of the user as much as possible. For example, what will a person choose – one program that solves 10 diverse tasks, or 10 applications, one for each task? Of course, it is more convenient to have a multifunctional product at hand.
Artificial intelligence
AI is gradually conquering the world, conquering certain areas of human life. The introduction of artificial intelligence is already taking place in security systems, information retrieval programs, household appliances, and other technologies. Now it is already difficult to surprise someone with a "smart home" system or voice search for information on the network, and it was artificial intelligence that was put at the heart of these technologies.
To date, this is the most promising direction in the development of not only mobile applications, but also computer programs for home and industrial equipment. Mass robotization will lead to the fact that very soon the phone will become our best friend, with whom you can talk, run programs with your voice, manage and configure functionality, almost without touching the display.
However, at the current state of affairs, the most reasonable vector of development is assistant AI technology. The main advantages of the alleged assistant, which programmers are aiming to create as early as 2022, are as follows.
Wide personalization. The more personalized the assistant, the more the user gets the impression that he works solely in his interests. Such assistants will determine the person talking to them, his personality, personal data, social status, and other indicators in order to fulfill requests as accurately as possible.
Analyzer of the emotional state. The voice assistant at its peak is intelligent artificial intelligence that can read the mood and emotional state of the user based on their speech, which will allow them to better recognize intentions and perform tasks more accurately.
3D Graphics for Mobile E-Commerce
3D graphic elements can no longer surprise anyone, this technology has long been used in various areas of design. The new trend assigns a slightly different role to 3D graphics – not decorative, but functional.
The creation of such "useful" graphics will soon become possible directly with the help of smartphones and tablets, opening up a huge field for activity and creating complex graphic objects. Now, 3D graphics are designed to improve functionality, increase efficiency, and only in the background – to please the eye and attract visually.
From a commercial, promotional point of view, 3D graphics will also add benefits, as this tool can provide a complete view of the product from all sides, which is a winning approach in online shopping.
Security and Anonymity
Many commercial projects collect certain information about their users, and while this is done solely to improve the provision of services, information, targeted advertising, in general, this causes concern for most users. There is a feeling of constant monitoring, and now the threat of leakage looms over the security of private data.
All this provokes distrust of customers in the activities of large IT projects that collect information about users for their own purposes. All this raises the need to improve the security of personal data, which is what the leaders of the information industries are working on. Apple has already presented to the public a new development with a more secure login procedure, as well as generating a random email address that redirects letters to a personal mailbox. So the email address will not get to spammers and people who send out information that is not of interest to the user.
As for global trends related to security, it is worth mentioning the blockchain – the technology of the future, which is already actively working in the crypto-currency field. Blockchain is capable of forging information, thereby making it very difficult to hack and leak, which makes this technology the most advanced today in terms of data confidentiality. Blockchain is mainly used to hide transactions from outsiders. 
Design Trends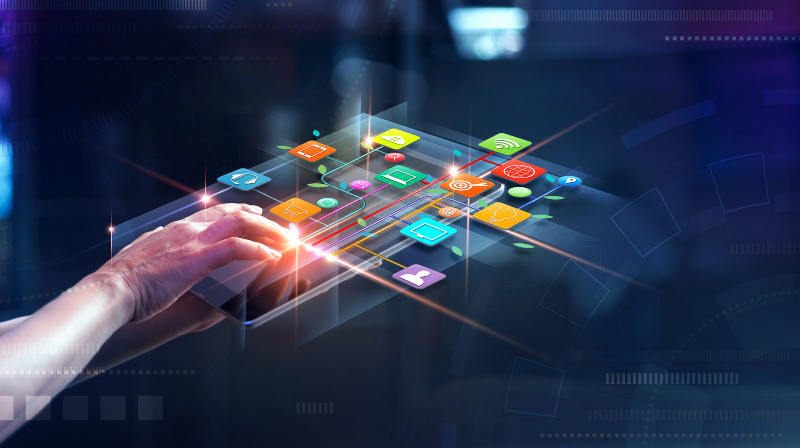 Material design
Material design is preserving its status as a way-to-go approach for building the UI. However, in this area, developers will face the challenges of introducing augmented/virtual reality technologies, which will become the trend of the year. But in any case, the material design will evolve.
Colors for User Experience
Colors will be used in mobile design for more than just aesthetics. They will mean more and be used as part of the functional experience. Using different color schemes, designers will be able to guide the user through the app or separate different features and actions. In addition, designers will continue to use colors for visual feedback and cues, a trend in mobile app design that is here to stay.
Interactive Design
It's no secret that successful apps are interactive and always set trends. Interactivity increases the app's retention rate as users become more engaged with it.
Overall, in UI department there would be no major changes, just a few adjustments here and there. Or micro fluctuations in trends.
Conclusion
The mobile app business will continue to grow at a quick pace, and the mobile app development industry will change as well. Mobile app solutions will continue to be steered by emerging mobile app platform development technologies, rising backend platforms, and microservices, as well as new hardware capabilities. The only way to withstand the cutthroat competition is to keep learning and staying vigilant.