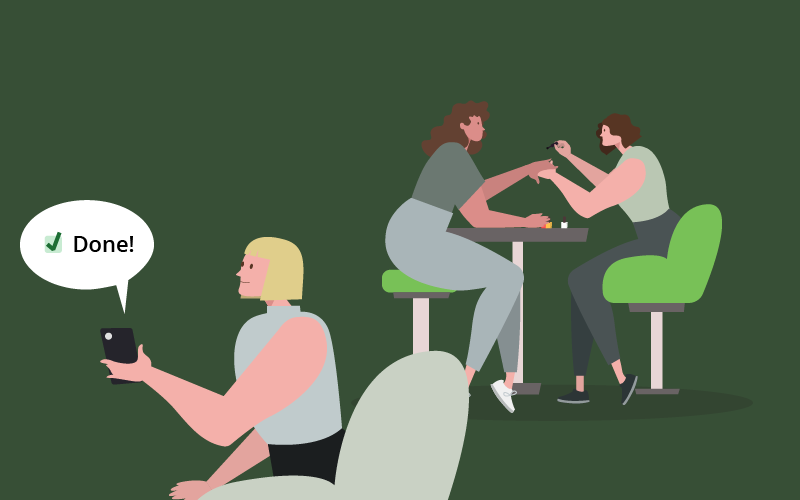 A common problem for many business owners who are considering starting their own showroom is managing their schedule and meeting appointments.
That's why we've created this list of 9 different appointment scheduling apps that you can use to manage your schedule and book additional appointments. Keep reading to find out which platforms are our favorites.
1. Booker by MINDBODY

Booker by MINDBODY is a digital platform that brings online booking, marketing services, and payments together in one place. With Booker, your customers can schedule, book, and pay directly on your website without being redirected to a new web page. Booker also integrates with Facebook, so your customers can book directly from your Facebook page. With Booker, you also have access to marketing features, including promotions and social media discounts. Booker gives you access to your payment panel where you can manage salaries, commissions, customer information, and more.
MINDBODY has three price levels. The Essential package is the lowest price at $125 per month. This package is best if you just want to manage your schedule and have an easy way to pay. Next comes the Accelerate package at $195 a month. This package gives you everything an Essential package has, plus marketing tools and retention features. Ultimate is the most expensive. This package costs $395 per month but gives you access to customizable mobile apps, detailed analytics, and more.
2. Schedulicity

Schedulicity is a simple online scheduling app that helps you manage your work schedule. In the app, you can add your services to your account and easily schedule them for your time. On the dashboard, you will see which appointments are scheduled for that day, and you can edit or add appointments at any time. In Schedulicity, you can also manage your clients' profiles and add new ones on the go.
Schedulicity is somewhat free. This salon scheduling software has several add-ons including unlimited appointment booking, payment, session-based package management, automatic billing, customer text reminders, and multi-location management. If you are a small business looking for easy-to-use salon planning software, Schedulicity is good for you.
3. Fresha Partner (Shedul)

Shedul claims to be the number one software for salons and spas. It's a simple yet powerful free salon planning software! Shedul gives you free access to all of its features. Features include appointment scheduling, customer profiles, automatic reminders and custom messages, an activity dashboard, online customer bookings, and POS sales transactions. Shedul also integrates with your website and Facebook page so customers can make an appointment right away.
4. Timely

Timely has a wide range of features in its salon planning software. Not only do you and your customers have easy access to online reservations on your website or Facebook, but you can also manage your customers and deliver a personalized experience, send automatic reminders, sell products, manage your inventory, track your metrics in the dashboard tools, manage cash and create and manage a free website. Timely also has an iOS app, so you can run your business anywhere.
If you are just starting your salon, the Schedule package via Timely will suit you. That's $15 per month per employee that can be booked and gives you access to booking features. The Schedule & Sell package gives you access to the same functionality as the Schedule package, as well as everything you need to manage the retail portion of your store, for just $5 per month for each employee you can book. The Works suite gives you access to everything, but it really only makes sense if you have 10 to 20 employees, since that's $199 a month.
5. Setmore Appointments – Appointment Scheduling App

If you are currently using Square for your transactions, then Square Appointments is the salon scheduling software for you. Square Appointments sync with your personal calendar, so your availability is always accurate, so you and your customers can make appointments right away. You will also have access to customer profiles and automatic reminders. The point of sale is built right into the Square Appointments platform, making ordering and inventory management easy.
Square Appointments are free to use for individuals, however, Square charges 2.75% per tap, drop, or swipe. If you have 2-5 employees, you will be charged $50 per month and 2.5% + 10 cents per click, dip, or swipe. Finally, if you have 6-10 employees, you will be charged $90 per month and 2.5% + 10 cents per click, dip, or swipe.
6. Simple Salon

Similar to the other salon scheduling software we have already mentioned, Simple Salon provides you with many booking and marketing functions, including SMS-messaging, a mobile-friendly platform, 24/7 online booking, reporting, accounting, and integrated payment. Simple Salon makes it easy to transfer your data to the platform, and they provide tutorial videos to get you started quickly.
At Simple Salon, you will pay $19 per month for a single package if you are the only employee in your company. If you have 2-3 employees, you will be charged $49 per month for the standard package. For unlimited employees, you will pay $99 per month.
7. Genbook

Genbook is a salon planning software that allows you to easily manage your salon business online. What makes Genbook unique is its Google integration. Genbook will connect to major search websites, social media, online directories, and local apps to bring your business to where people search for salons in your area. Genbook also collects feedback from your customers after their meetings so that you can share them in reviews and ratings on social media. You will also be able to link them to Google searches, which will boost your reputation. If you are interested in an automated marketing tool along with online booking software, Genbook is for you.
Genbook prices are per employee. If you're the only employee, your pay is $25 per month with Genbook. If you have 2-5 employees, your fee is $49. If you have 6-12 employees, your payment is $83 per month. And if you have 13 or more employees, you will need to contact Genbook for pricing.
8. Schedulista

With Schedulista, you get a public scheduling page that you can link to from your website and design your page to match your brand. Through the platform, you can make online appointments, receive credit card details, and schedule posts on your Facebook page. Schedulista is another platform built for salon owners, so the features are very useful.
Schedulista charges a flat fee per employee. If you are the only employee, you will be charged $ 19 per month. If you have 2 to 15 employees, you will be charged $39 per month. If you have more than 15 employees, you need to contact Schedulista for details. You can try Schedulista free for 15 days to see if you like this scheduling software.
9. Beauty Manager by BestWebSoft

The application is a ready-made solution for planning and managing a business in the cosmetics industry, such as beauty salons, hairdressers, manicure salons, and individual beauty professionals. Replace your old notebook and allow the application to work for you – store information about all your services, customers and plan your schedule in one place.
With the Beauty Manager scheduling part, you can record customer appointments, access customer history, and personalize automatic reminders. Beauty Manager also has a simple cash register so you can easily manage your cash drawer, gift cards, and all transactions. This way you can easily manage your business on the go.
Conclusion
We reviewed several applications and selected the top 9 of those that will be the most effective and convenient for running your business. The apps are randomly ranked in the top, so any of the 9 we consider a good tool that we could advise you. Follow your schedule in a convenient format!